Pregnancy & Exercise
Aaron Shedlock
December 18th, 2012
Pregnancy & Exercise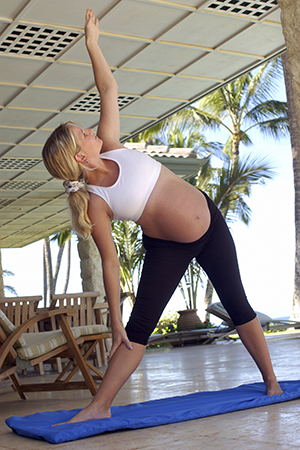 There are varied views regarding exercise and pregnancy and what is considered safe.  Many women upon receiving confirmation of their pregnancy become concerned about a whole host of bodily changes including hormonal imbalances, mental distress, fluid gain and weight fluctuations. When any or all of these changes are partnered with morning sickness there is no wonder many women just don't find the energy or the motivation to exercise!
The main factor to remember when you are pregnant is that it is very difficult to alter your core body temperature unless you have a virus which elevates your temperature.  This is not to say you should exhaust yourself in the heat and become dehydrated as this just isn't taking care of you, but you can exercise safely by being sensible.
There's a host of pregnancy yoga, yogalates or pilates classes which are great to not only remain active but to meet other expectant mums and share your experiences. Many of these programs offer core specific classes post pregnancy too which is essential after child birth to retract those highly stretched abdominal and pelvic muscles.
Swimming is also a sensational way to exercise as you start to expand. Non-weight bearing, your spine and legs will thank you and the circulation boost will reduce the impact of spider and varicose veins.
Some tips for maintaining exercise during pregnancy include:
Consider the temperature, exercise when it is cooler either early morning or evening is best.
Consider the risks involved with your choice of cardio exercise, avoiding the chances of impact or falls.
Drink plenty of cold water – cold water hydrates your body more quickly.
Don't beat yourself up if you just don't feel like it – you can and will make up for it.
Tame the intensity down as you start to expand, remembering you are gaining weight so when exercising it is as though you are carrying weights.
Eat sensibly but don't panic with the odd indulgence, everything in moderation is the key.
If you do start to gain a lot of weight don't feel depressed or disheartened, it is temporary.
Talk with your obstetrician about your exercise regime, they see many pregnancies and this is their specialty.
Remember everyone is different, enjoy your pregnancy, try not to worry too much about all of the changes and accept you can get back to your former condition if not in better condition post pregnancy.
Stay Healthy!
Aaron Shedlock
Limitless Health